Earlier this week, AMD gave us some more insight into their upcoming products at Computex 2022 including some more details on the next gen Ryzen 7000 series processors.
AMD finally gave their fans a long awaited look at their new Ryzen 7000 series CPUs and the new AM5 socket they will be launched on. Unfortunately they never gave us any detailed specs on the processors themselves, but they did give enough information to keep fans going until they release a full spec sheet closer to the launch. While they still haven't given us a concrete release date, we do know they are set to release in Spring 2022, with leaks suggesting a September launch.
The Ryzen 7000 series is set to be the world's first line of processors built on the 5nm lithography and the most powerful line of CPUs on the market.
What we now know about the Ryzen 7000 series
Utilizing their new Zen 4 architecture, the Ryzen 7000 CPUs will be much faster and more power efficient than the current gen AM4 Ryzen processors. It has been confirmed that the 7000 series will have 1MB per core L2 cache which is double the previous gen, and a single thread performance increase of up to 15%, and each of the 7000 series CPUs will be reaching a minimum of 5GHz on all cores.
Along with the impressive performance of the CPU itself comes with PCIe Gen 5.0 support and DDR5 RAM. At their keynote, AMD showed off some gameplay of the newly release Ghostwire Yokyo running on a 16 core Ryzen 7000 CPU reaching speeds of 5.5GHz. They also showed a time lapse comparing a rendering of one of their Ryzen 7000 processors in blender, showing the performance of one of the 7000 series CPUs compared to an Intel Core i9-12900K. This comparison showed that the AMD CPU completed the render 31% faster than the Intel CPU, showing impressive multi core hardware rendering.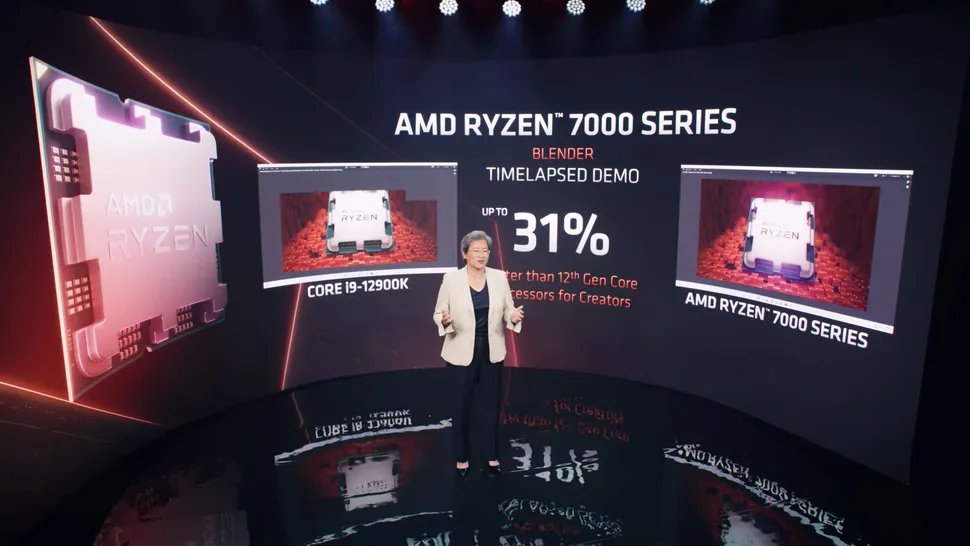 AMD ended the keynote saying that they will be releasing more information as they get closer to the launch later this year. You can watch the full keynote below.