AMD's upcoming Ryzen 7000 series processors will support 5200mhz DDR5 speeds by default, with massive overclocking potential.
AMD's next generation of processors, the Ryzen 7000 series Raphael CPUs are set to launch in the second half of this year, with major performance boosts over the current 5000 series expected. To go along with the promised high performance of the chips, they will also support new DDR5 RAM, and AMD has claimed that the ZEN 4 RAM overclocking capabilities will be a "big splash" in overclocking.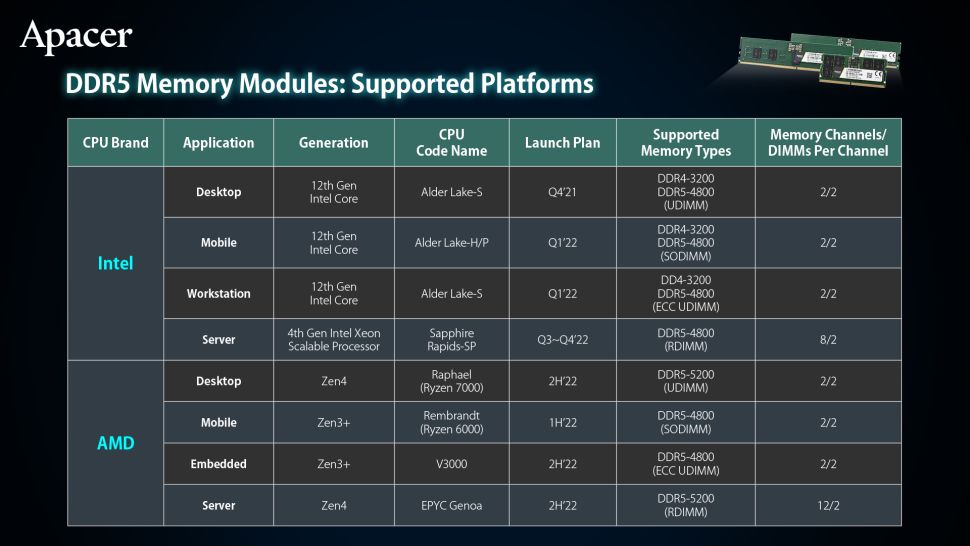 Memory manufacturer Apacer posted a table that shows that the new Zen 4 processors will natively support DDR5 5200Mhz from the start. This promises more support for DDR5 than Intel's current 12th gen CPUs. 5200Mhz DDR5 RAM will show over 8% improvement in peak memory bandwidth than 4800Mhz that Intel currently has native support for out the box. This, paired with rumours of the impressive overclocking capabilities of the Ryzen 7000 series means that once again, Intel could be second to AMD in gaming performance.
The table also shows that while Intel 12th gen has support for both DDR4 and DDR5 memory, AMD will only support DDR5 memory from speeds of 5200mhz upwards. Zen 4 will also support PCIe gen 5.0, and will use the new AM5 chipset. There is no confirmed date for the official Ryzen 7000 reveal, with AMD's only statement that it will be in the 2nd half of this year, and based on past releases it is expected to be in late Q3 or early Q4.