Yesterday saw the long awaited announcement of the new Zen 3 AMD 5000 series processors, an announcement that many gaming enthusiasts and content creators have been waiting for eagerly since the date was revealed last month. And AMD did not fail to impress, showcasing what they claim to be the best gaming processors as well as the highest single core performance processors, which was something that Intel had previously excelled in over AMD. They also promise to have a 19% increase in performance-per-clock.
New Processor Lineup
CEO of AMD, Dr Lisa Su announced the 4 new processors in the Ryzen 5000 series, all using their brand new Zen 3 architecture.
| Model | Cores/ Threads | TDP (Watts) | Boost / Base Frequency (GHz) | L3 Cache (MB) | Price |
| --- | --- | --- | --- | --- | --- |
| AMD Ryzen 9 5950X | 16C/32T | 105W | Up to 4.9 / 3.4 GHz | 64 | $799 |
| AMD Ryzen 9 5900X | 12C/24T | 105W | Up to 4.8 / 3.7 GHz | 64 | $549 |
| AMD Ryzen 7 5800X | 8C/16T | 105W | Up to 4.7 / 3.8 GHz | 32 | $449 |
| AMD Ryzen 5 5600X | 6C/12T | 65W | Up to 4.6 / 3.7 GHz | 32 | $299 |
The core and thread count remains the same as the previous Ryzen 3000 series using their Zen 2 architecture, but we can see a massive increase in frequencies, seeing up to a 4.9GHz boost speed on the Ryzen 9 5950X.
Another improvement that has been made is the new chip design on the Zen 3 CPUs. Previously the cores would be split into two structures each with access to their own cache, now they have been combined and access a single larger cache. This results much lower memory latency, which is essential to many gamers.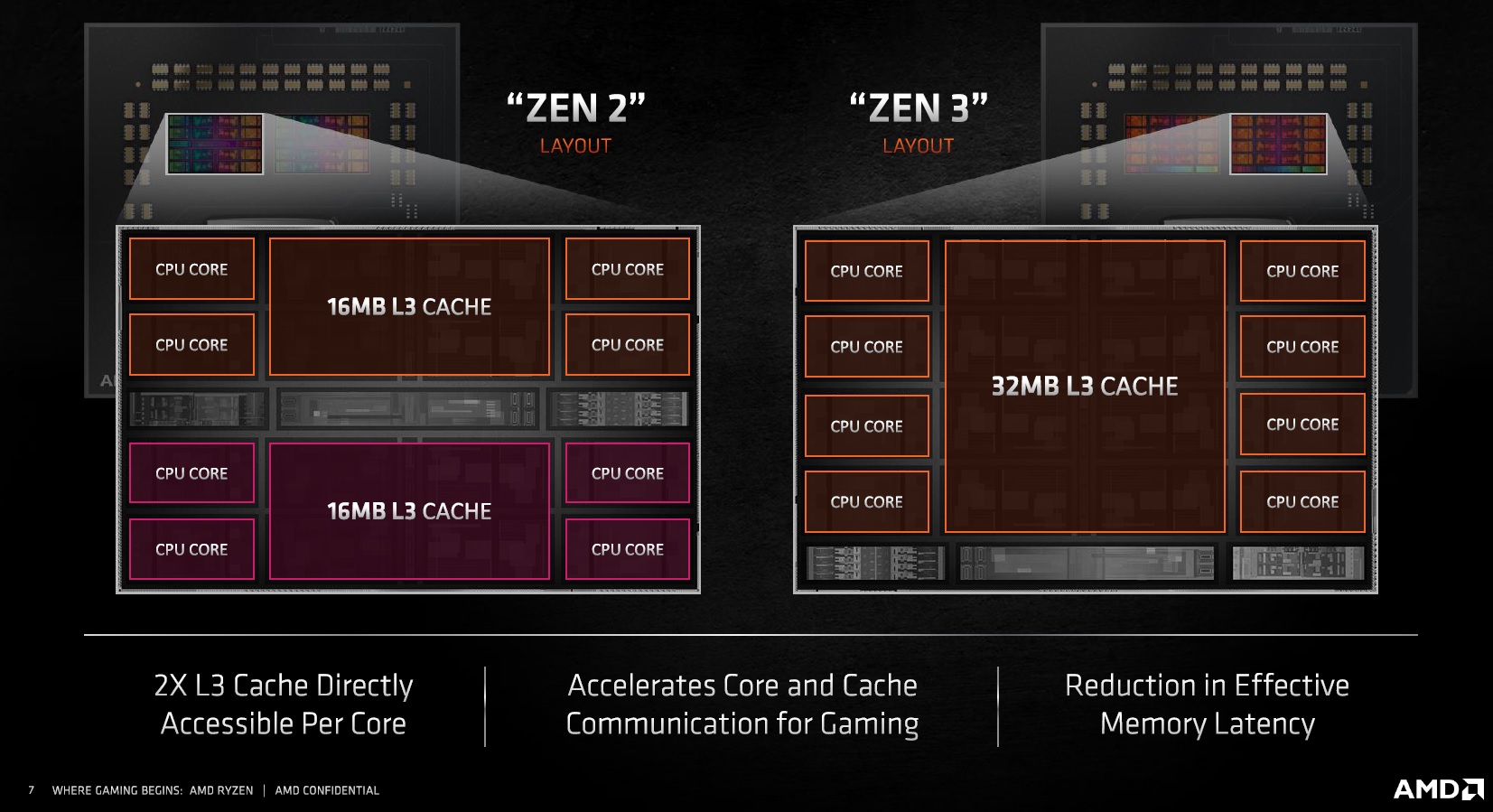 What Does This Mean For Performance?
During the announcement AMD featured footage from Shadow of the Tomb Raider, a game often used to benchmark CPUs, and the Ryzen 9 5900X performed at an average framerate of 181 FPS at 1080p, compared to 141 FPS on the Ryzen 9 3800XT. Thats a 28% performance increase. They then went on to show how the 5900X performs in comparison to the i9-10900K in cinebench. Cinebench is used to benchmark single core performance in processors, and the Ryzen 9 5900X became the first desktop PC to ever break a score of 600 by scoring 631. In comparison, the Intel i9-10900K scored 544.
This all translates into impressive noticeable performance increases in both creative environments and in gaming. Below is a comparison of the Ryzen 9 3900XT and the Ryzen 9 5900X, showing the performance increase in many popular games.
Lisa Su then ended the announcement by teasing some short footage of the AMD 6000 series graphics card working together with the Ryzen 9 5960X in Borderlands 3 running at 4K quality and achieving over 60 frames per second. Now we just have to wait another 3 weeks for the announcement of their new RDNA 2 graphics cards on the 28th of October.
The 5000 series is set to launch in the US on the 5th of November, there's no date for when these chips will come to South Africa or what their price will be yet.