Yesterday Nvidia officially released the specs and information on their latest GeForce RTX 30 series graphics cards. After months of speculation and leaks about the specs, we now know what we can expect when their new cards are released later this month.
The new cards are powered by Ampere, their 2nd generation RTX architecture, which expands on their ray tracing technology that they introduced with their 20 series RTX cards, as well as improving overall visuals and providing better performance for both gaming and video creation.
Boasting world firsts
The new 30 series cards proudly boast a few world firsts for graphics cards, such as:
The first GPU with 24GB of faster GDDR6X VRAM.
First GPUs with support for HDMI 2.1 allowing for 4K and 8K gaming with high refresh rates.
First GPUs to support AV1 codec allowing for watching higher resolution streams while using less bandwidth.
Founder's Edition cards will be the first cards to feature dual axial flow through cooling solutions, resulting in increased performance without the worry of overheating.
The cards will also feature a few new enhancements for esports competitors, livestreamers, content creaters and gamers. Nvidia Reflex will lower your system latency resulting in faster system response time and Nvidia DLSS will bring 8K gaming to life on the RTX 3090.
For more insight into the announcement of the RTX 30 series, watch this launch presentation delivered by Nvidia CEO, Jensen Huang.
Nvidia GeForce RTX 30 Series Important Specs:
| | | | |
| --- | --- | --- | --- |
| | GeForce RTX 3090 | GeForce RTX 3080 | GeForce RTX 3070 |
| CUDA Cores | 10,496 | 8,704 | 5,888 |
| VRAM | 24 GB GDDR6X | 10 GB GDDR6X | 8 GB GDDR6 |
| Prices Starting At | £1,399 | £649 | £469 |
| Release Date | September 24 | September 17 | Available October |
The prices in Rands has yet to be determined, but at least we have a rough understanding of what the price range will be. The pricing on these cards is much lower than previous launch prices, if you were to buy an RTX 2080 now, a couple years after launch, prices start at about £700, which leaves the RTX 3080, a considerably better card, considerably cheaper.
RTX 30 series performance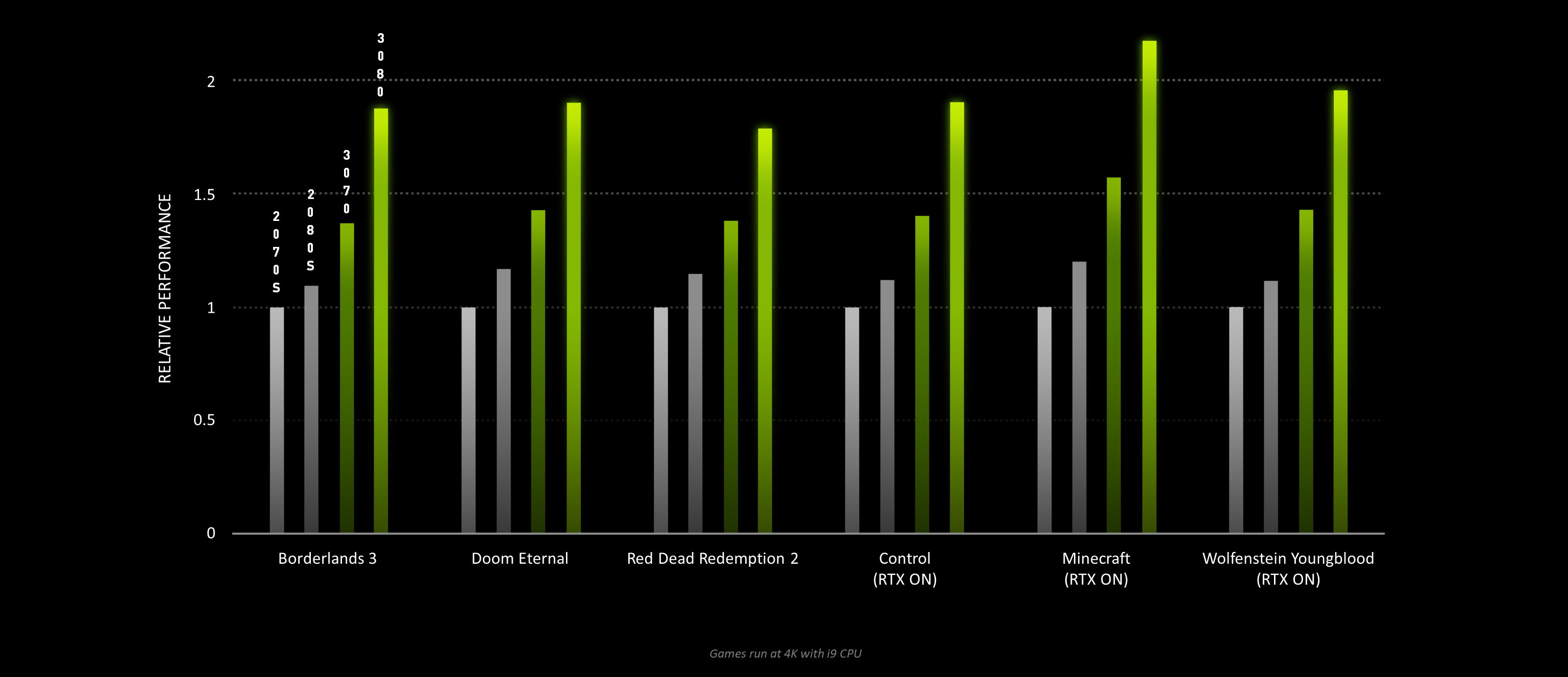 This graph shows the comparative performance of the new 3070 and 3080 versus the 2070 and 2080. As you can see, the RTX 30 series has some serious power, with the lowest spec of the cards still outperforming the 2080 super.
Now the only question left in our minds, is will AMD deliver with their upcoming 'Nvidia Killer' graphics cards?